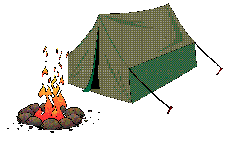 <![if !vml]>
<![endif]>


Not every person is comfortable in the out-of-doors, but millions of girls who have passed through Girl Scouting say camping is what they remember the most. First, if your daughter absolutely does not like to go camping, that's ok. She can be an active member of our troop and elect to not go on our campouts. Our campouts range from the primitive (latrines) to the deluxe (annual service unit encampment at MI State Parks, with cabins, cots, and flush toilets.) Camping gives girls an exposure to nature they don't get in their backyard, but more significantly, the things we do at campouts (hiking, fire building, outdoor cooking, etc.) gives them self-confidence that adults who go with me can visibly see form before our eyes on our camping weekends.

EQUIPMENT: To maintain a minimum comfort level, your scout will always need the following items when we go camping.

Sleeping bag:
Should be rated to 40 degrees as an absolute minimum standard. (I personally would not put my daughter in a 40-degree bag, as I know she would be cold.) For guaranteed comfort in all cases, I would recommend a "20 degree" bag. The degree ratings are averages, and some people sleep colder or warmer than others.

Sleeping pad:
Pads are much more for insulation from the ground than for comfort when you are 9-11 years old. If you are an adult, you'll need a better pad if you intend to be able to move in the morning! :-) For the scouts, a pad will provide great and much-needed insulation from the cold ground, and help protect the sleeping bag.

Mess Kit:
Don't worry about getting the old aluminum mess kit sold at camping stores. In fact, when we put hot food in those, the entire dish sometimes becomes too hot for a scout to handle. A Cool-Whip container will work great for a bowl. A cheap picnic plate will work for a dish. Pick up extra spoons, forks, and knives at the dollar store or a garage sale. Scouts need a mug (for hot cocoa, which we almost always have) and a drip/dunk bag along with their mess kit. The best mugs are the insulated travel mugs with lids. The bag should have a string so we can hang it up (with wet dishes inside) to drip dry.

Water bottle:
Best if there's a way to carry it hands-free, whether that be with a strap, a fanny pack, or small backpack.

Backpack:
Not required. However, give it some thought. Today's youth backpacks are designed to be expandable (e.g., they grow lengthwise with the child). The girls who move into Cadettes with me will be taking backpacking trips of increasing length. From a practical standpoint, even though we only "car camp" right now, it's still a challenge to carry a duffle bag, sleeping bag, sleeping pad, and anything else from a car parking lot to a campsite. A backpack is much easier to manage. A Kelty backpack designed for youth normally retails for about $70.

In addition, a packing list will be provided for each trip. PLEASE always put names on EVERYTHING your scout takes. Socks, bandanas, eating utensils, and underwear are often separated from their owner!

A final note:
My personal pet peeve is to hear a scout say "My mom forgot to pack that". My favorite answer is: "Is this your mom's trip or yours? How come YOU didn't pack it?"
For most all of the girls, packing isn't done entirely on their own, but I recommend they set everything out, when they think they've got it all, call mom or dad to check their list with them.
I'm a firm believer that this will help them accept more responsibility.